Local Information about the Maldon area
We feel blessed to be living and working in this beautiful and unspoilt community; although today's tranquil and scenic landscape is far cry from the historic battle ground and busy trading centre of centuries ago..
Once the scene of wars like that of Saxon King, Ethelred the Unready and the Danish invaders at the Battle of Maldon (990'S), Maldon has also played host to Roman settlements and was a regular landing site for marauding Vikings. Our historic heritage is still evident throughout the town and outlying villages and archaeological digs are still uncovering more incredible artefacts from these bygone eras, to this present day.
As a coastal town and a main port leading off the sprawling Blackwater Estuary, Maldon has a rich and colourful history. For many centuries, oysters have been harvested from the mud beds (home of the annual Maldon Mud Race) and sea salt, a once a highly prized commodity produced. Luxury goods brought in from Europe were traded at Hythe Quay and you can still see some of the traditional sail barges used to ferry goods to London in use today, although for leisure and commissioned purposes only.
The area is also one of the UK's largest and oldest wine producing districts with vineyards and wineries recorded here for over two thousand years. Although already producing wine, the settling Romans were extremely partial to a tipple so expanded the existing vineyards to keep up with supply.
After the Romans were long gone, the wine making business continued to flourish and unfortunately got one of the local rectors in to rather a lot of hot water!
Lawrence Washington, great-great grandfather of the first US President, George Washington was rector of the village of Purleigh, on the outskirts of Maldon and fell foul of the Puritans who falsely accused him of over imbibing and encouraging others to follow suit. This cost him his position and he eventually died impoverished in 1653 and is buried at Maldon Church.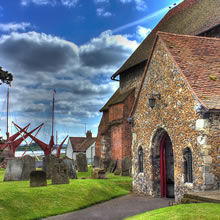 In honour of the Washington family, the citizens of Malden. Massachusetts presented the church with the beautiful Washington Window in 1928 on display in the D'Arcy Chapel at Maldon Church. The church is of great historical interest and dates back to Norman times. One of its more obvious features is its unique triangular spire.
Throughout the winding streets of Malden, medieval timbered and historic stone buildings have been lovingly and sympathetically restored and maintained to retain the town's picture postcard appeal. If you imagined a traditional seaside town, with boats bobbing in the harbour and pretty cottages by the quay, you'd be imagining Maldon.
The sea has not been the only influence on Maldon. The rich fertile fields of Essex have created a strong agricultural economy, providing much of the regions prosperity over the centuries and farming still remains one of the areas main local industries. The thriving farmer's market in the town centre attracts plenty of visitors to the town, as do the general markets and antique and collectors' fairs.
Maldon and its surrounding villages have remained largely unspoilt and new developments have been designed to enhance the rural scenic landscape. Properties range from farmhouses to terraced cottages and a strong and welcoming community make this traditional rural and costal town an extremely desirable place to live and work.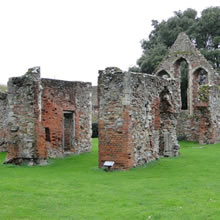 Malden attracts many visitors, both human and wildlife, throughout the year and for both families and wildlife enthusiasts, there is plenty to do. The area is surrounded by nature reserves and SSSI sites for nature enthusiasts but for families, you can't go wrong when you visit the Promenade Park. Within its boundaries you can enjoy the boating and crabbing lake, children's playground (we love the galleon!), maze and wildlife gardens, skateboard and BMX trails, plus in the summer, the park opens its Splash Park. Throughout the year, the park also runs seasonal events and entertainment for all the family to enjoy.
There's also the Blackwater Leisure Centre has something for every generation, plus its water slide is a big hit with the kids. With lots of different classes and clubs for both young and old and those who really like to work up a sweat, this sports complex is extremely popular with Maldon residents and visitors alike.
Some other great places to visit in Maldon are The Moot Hall, Maeldune Centre, Maldon Museum and the Museum of Power plus for budding James Bonds, there is the Combined Military Museum with its fantastic collection of spy and espionage artefacts and military memorabilia. For green fingered garden lovers, there is the very beautiful Beeleigh Abbey Gardens to enjoy just a stones through outside of Maldon.
As anyone who loves sport or has children will want to know, the nearest NHS A&E hospital is just 9 miles away in Chelmsford and is the excellent and highly rated Broomfield Hospital. We hope you never have to visit it but should you do so, you can rest assured that an incredible 95% of patients would recommend it!
There are many fabulous infant and primary schools in Maldon which feed into the award winning secondary school, The Plume School. Named after one of Maldon's sixteenth century benefactors and creator of the country's largest and earliest recorded reference library, Dr Plume's legacy can be seen in many locations around the town. Education has always been an important part of Maldon's history and records show schools in the vicinity for over 900 years.
We can think of many more reasons why we love Maldon so if you are thinking of moving to the area, why not get in touch with us and let us share even more of its hidden treasures.